Popular Feather Prom Dresses
/
Hellymoon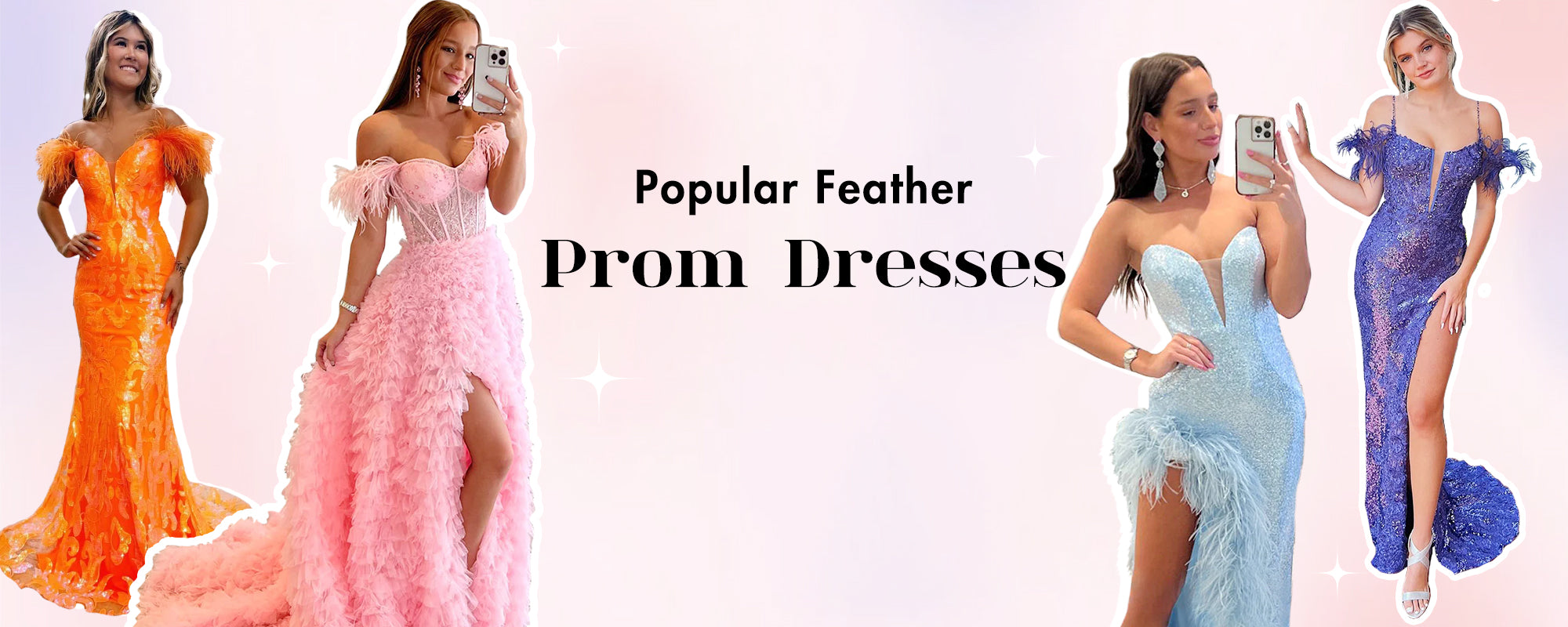 Popular Feather Prom Dresses
Hey, Hellymoon Babes! We don't know about you, but we're already excitedly planning our prom looks.One of the biggest trends we're seeing both on the runway and in prom fashions are feathers! Feather prom dresses are sure to generate plenty of buzz whenever they're worn, plus, they're super pretty! We've selected our most popular feather prom dresses to ensure you look great this year.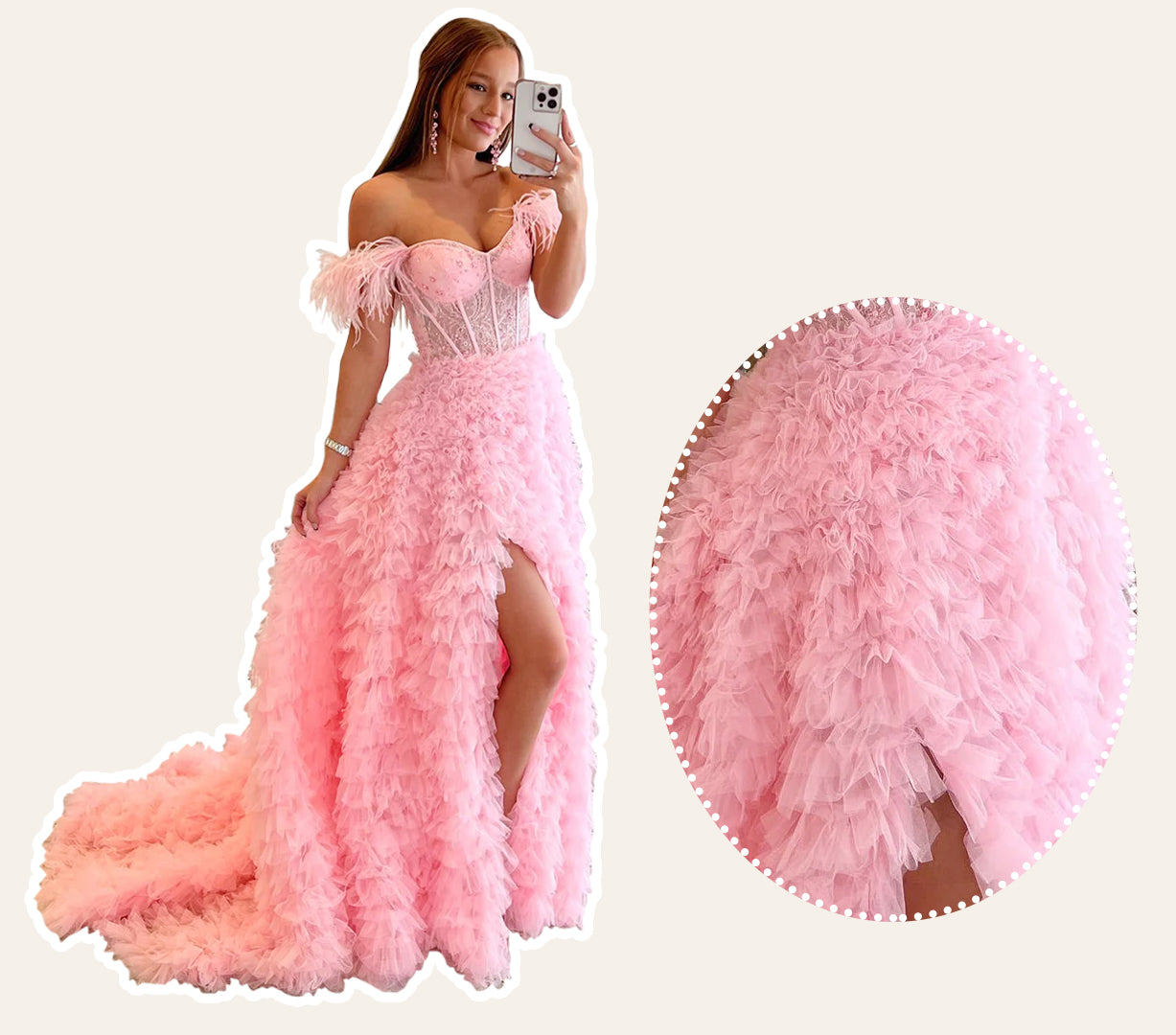 This dress is over the top for all the right reasons.The bodice is sheer and accented with sequins to ensure you will sparkle the moment you get into the room.The off the shoulder neckline gives a flirty peek of skin that creates a classic silhouette. However, the real star of this dress is the feathered skirt.The soft and delicate feather skirt is layered and moves with you to create a showstopping look that seriously can't be beat.We're also OBSESSED with the high slit that adds plenty of drama to this already exquisite dress. The combination of timeless elegance and fun, dramatic extravagance makes this dress one of our absolute favorites.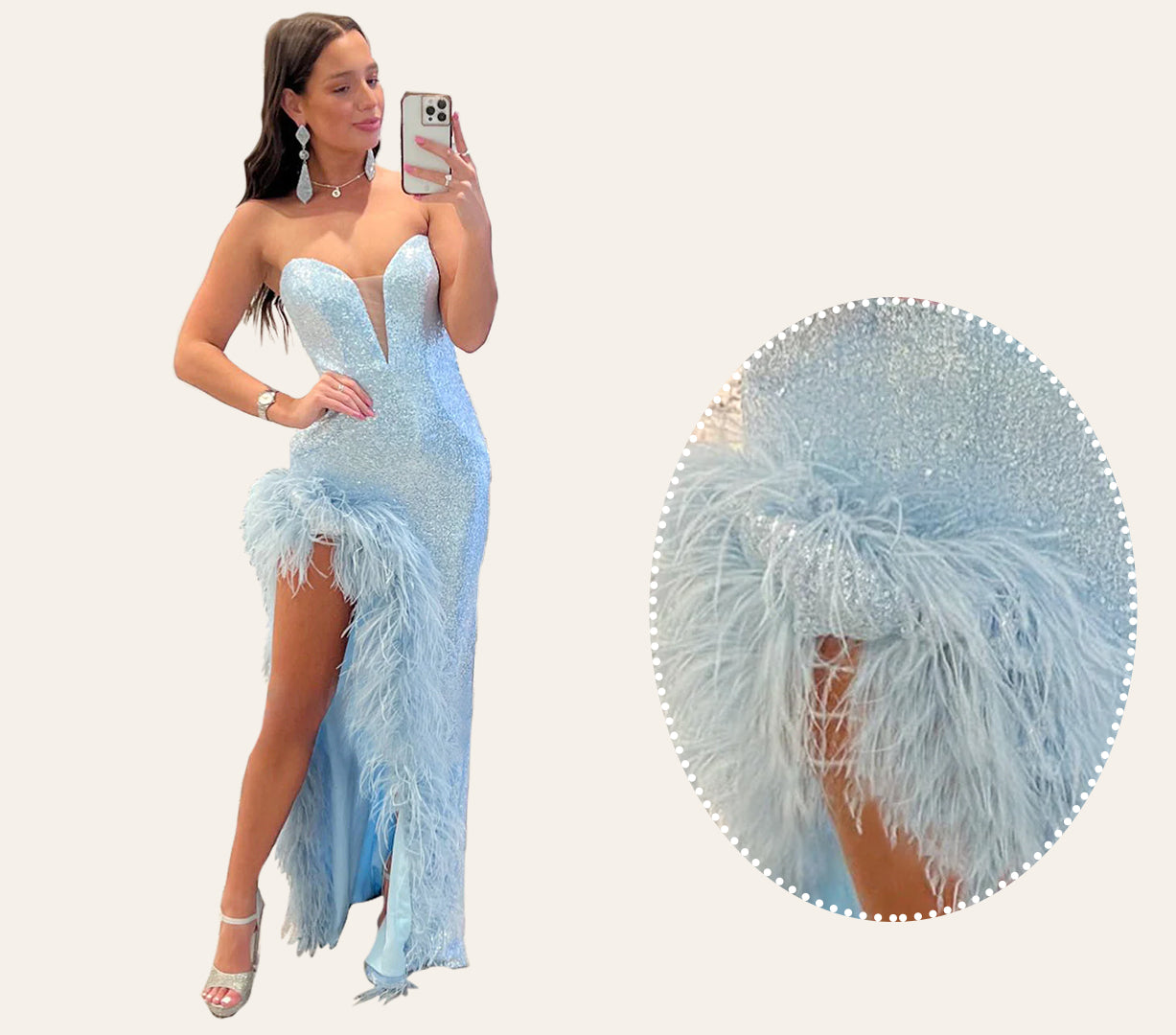 This dress is perfect for the girl who wants to incorporate feathers in her look but doesn't want to have a dress that's covered head to toe in feathers.This machine-embroidered gown is covered in sequins that allows you to sparkle and shine the moment you go into the room. The deep V-neck in both the front and the back offers a flirty, dramatic element to the floor length gown.The high slit adds a great focal point in the front while complimented in the back by a sweep train to give the gown a timeless look that would fit in just fine at the Academy Awards.
However, the real showstopper on this gown are the feathers. Placed across the lower part of the gown, starting at the slit, this dress features feathers in bunches rather than feathered throughout which makes it perfect for the girl who wants feathers but not FEATHERS EVERYWHERE. Finally, the gown is covered in lace embroidery with glitter thread to create a sparkling gown that everyone will salivate over.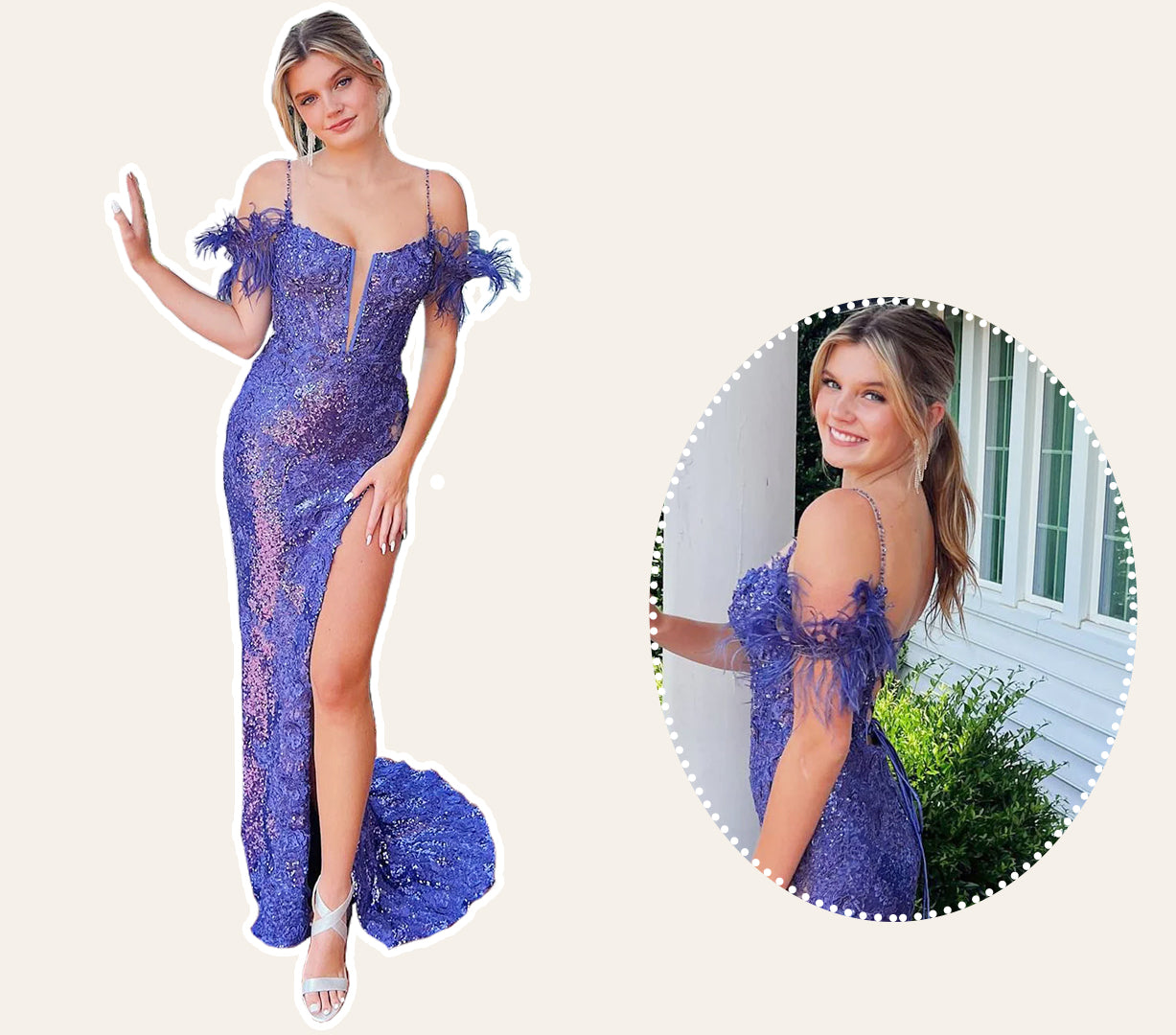 Just like the HMUSWH2760 Blue,this dress features feather details to create an awesome gown that's on brand without being over the top.This mermaid gown creates a glamorous silhouette that's sure to turn heads because it hugs all your curves before flaring out at the knee.This creates a gorgeous hourglass figure for anyone who wears it.Furthermore, the plunging V-neck and lace up back give flirty pops of skin that will definitely make people look your way. The feathered straps fit around the upper arm but are easily removed if you decide to go feather-free on your big night. Finally, the features lace embroidery throughout to create a gorgeous gown that you will feel absolutely gorgeous in.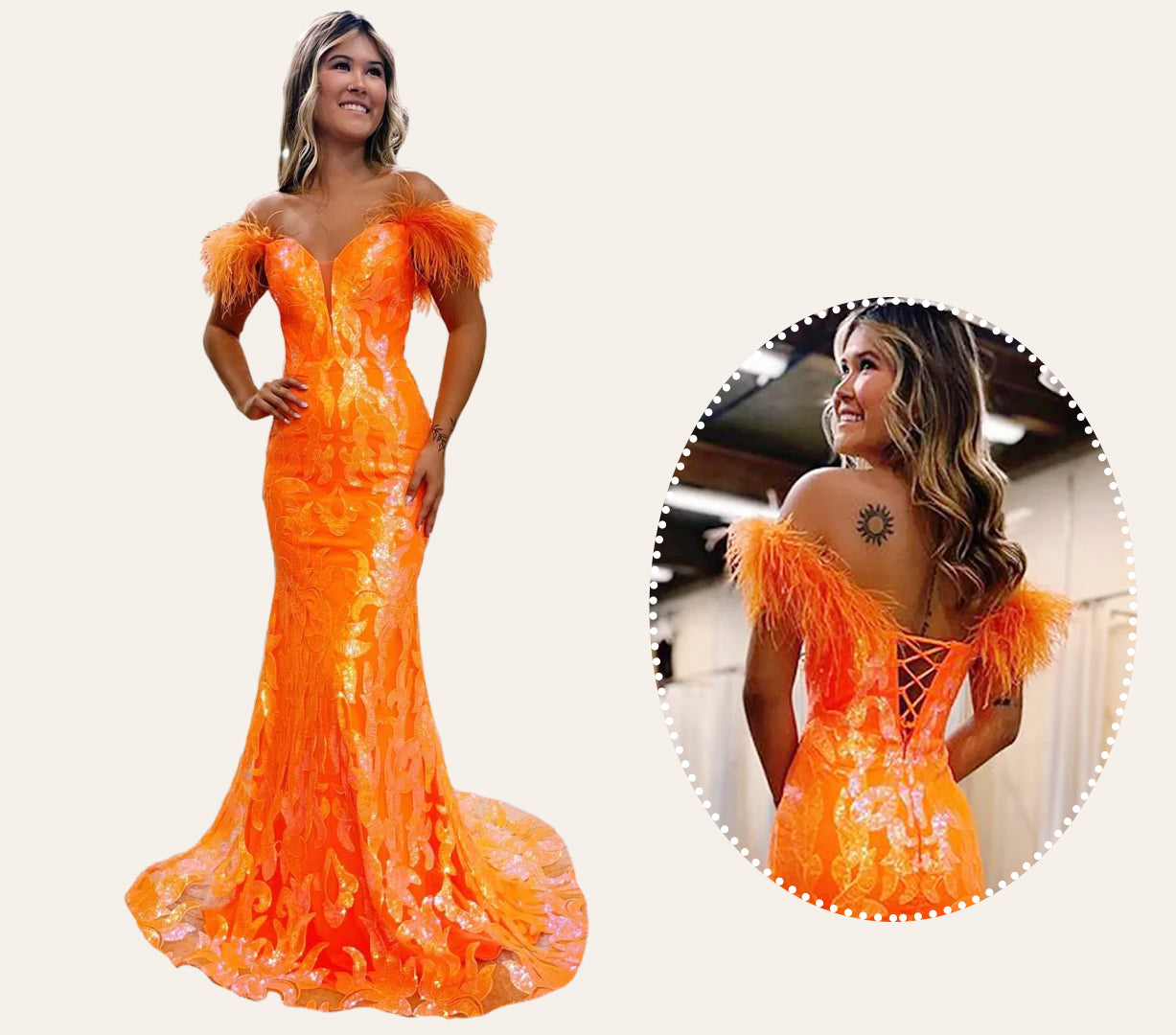 This gown is one of our most popular feather prom dresses, and it's easy to see why. We'll be honest, this gown isn't for the faint of heart.Instead, it's made for the girl who wants to stand out in every way possible. Available in Bright Orange or Fuchsia, this shimmer jersey gown allows your personality to shine.Style HMUS40010313 Orange gown is made to let you shine while adding just a hint of sparkle.The forest bodice and deep V-neck make your waist the focal point.Wow everyone, including your date, at the prom this year with this gorgeous feather dress.
We love feather prom dresses, and we hope you do too. We want to see you in our feather gowns this prom season, so make sure to tag us in your social media posts, and don't forget to have the best night of your life (so far!).