5 Latest Prom Dress Trends You Need To Know About
/
Hellymoon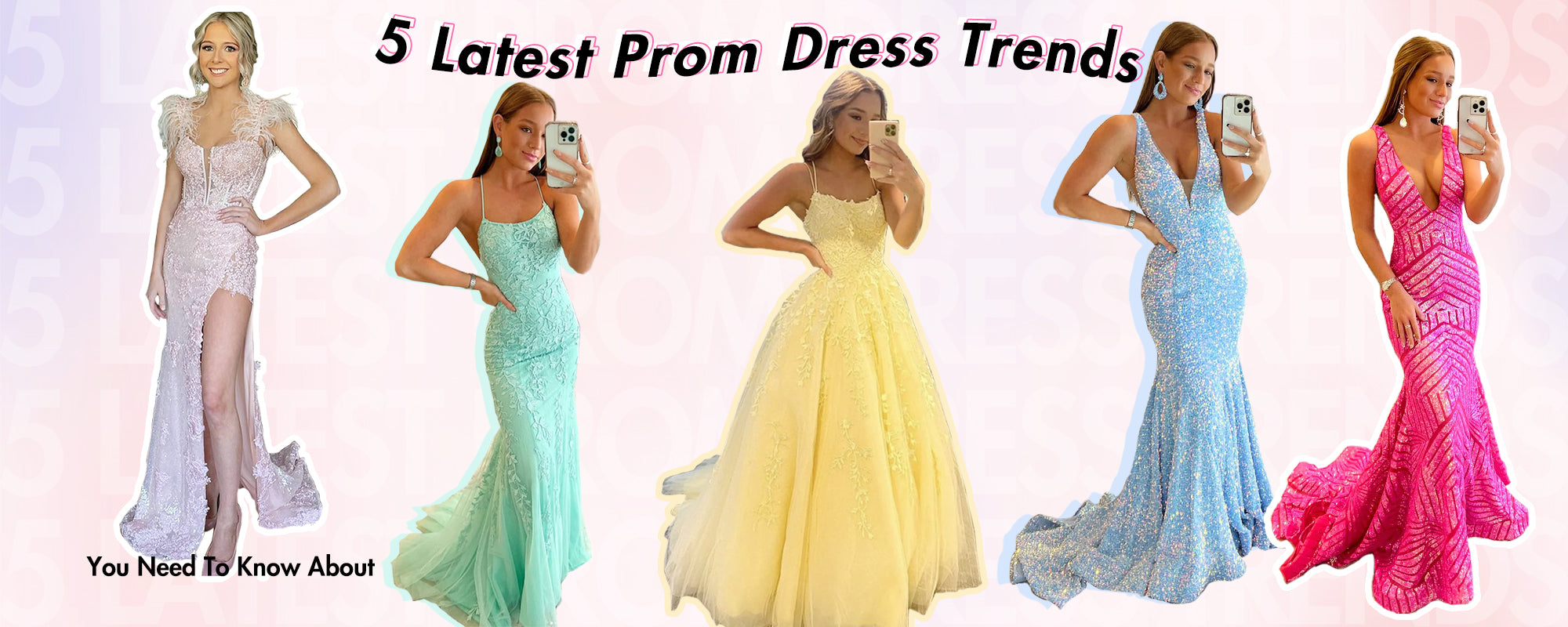 5 Latest Prom Dress Trends You Need To Know About
Prom trends have shifted a lot over the years. Now, they're more understated and sophisticated than extravagant and showy. This year, we're seeing some gorgeous prom dress trends that are sure to make you look and feel your best! From strapless to backless and long to short, there are many trends out there to choose from.
Here, we look at some of our favorite trends, which include feather dresses, simple and stunning styles, ball gowns, velvet sequin gowns, and lace dresses.
Feather Dresses
Feather prom dresses are just what their name suggests—they're made from feathers. They come in different colors, prints, and fabrics. They're a perfect choice for prom dresses because their unique design makes them stand out from the crowd. Feather prom dresses are also a great choice for those who want to make a statement without sacrificing comfort or style.
Prom is just around the corner. Are you ready? Be the center of attention on your big night in this glamorous gown (HMUSWH2947 Light Purple) with its unique design. The sheer bodice of this fitted gown is adorned with a sequin floral design, while the skirt features feathers that swish around from side to side as you dance the night away.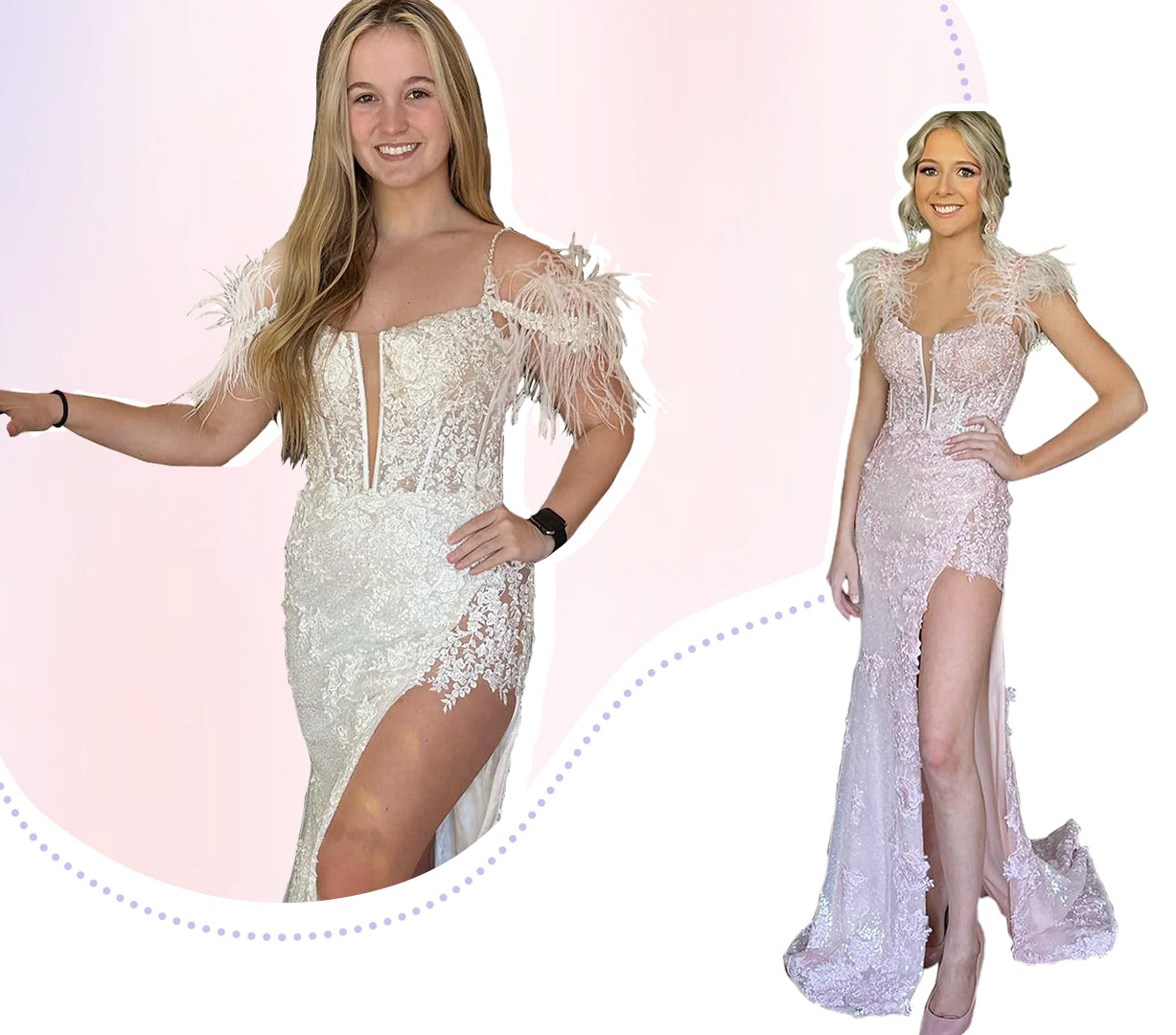 Simple & Stunning
Simple prom dresses are perfect for occasions when you want to look effortlessly chic. Because the style is so understated, you can pair a simple prom dress with a variety of accessories and shoe styles without having to worry about taking away from the overall look.
Get your party started with this stunning strapless dress (HM04032305 Pink) that captures the essence of a glamorous ball. For the woman who wants to make a statement, this stunning dress is perfect, deep v-neck, trim and skirt slit. The shimmering bodysuit exudes glamor while sparkling diamond embellishments add a touch of brilliance to any setting. Get ready to reveal your inner goddess in this dress.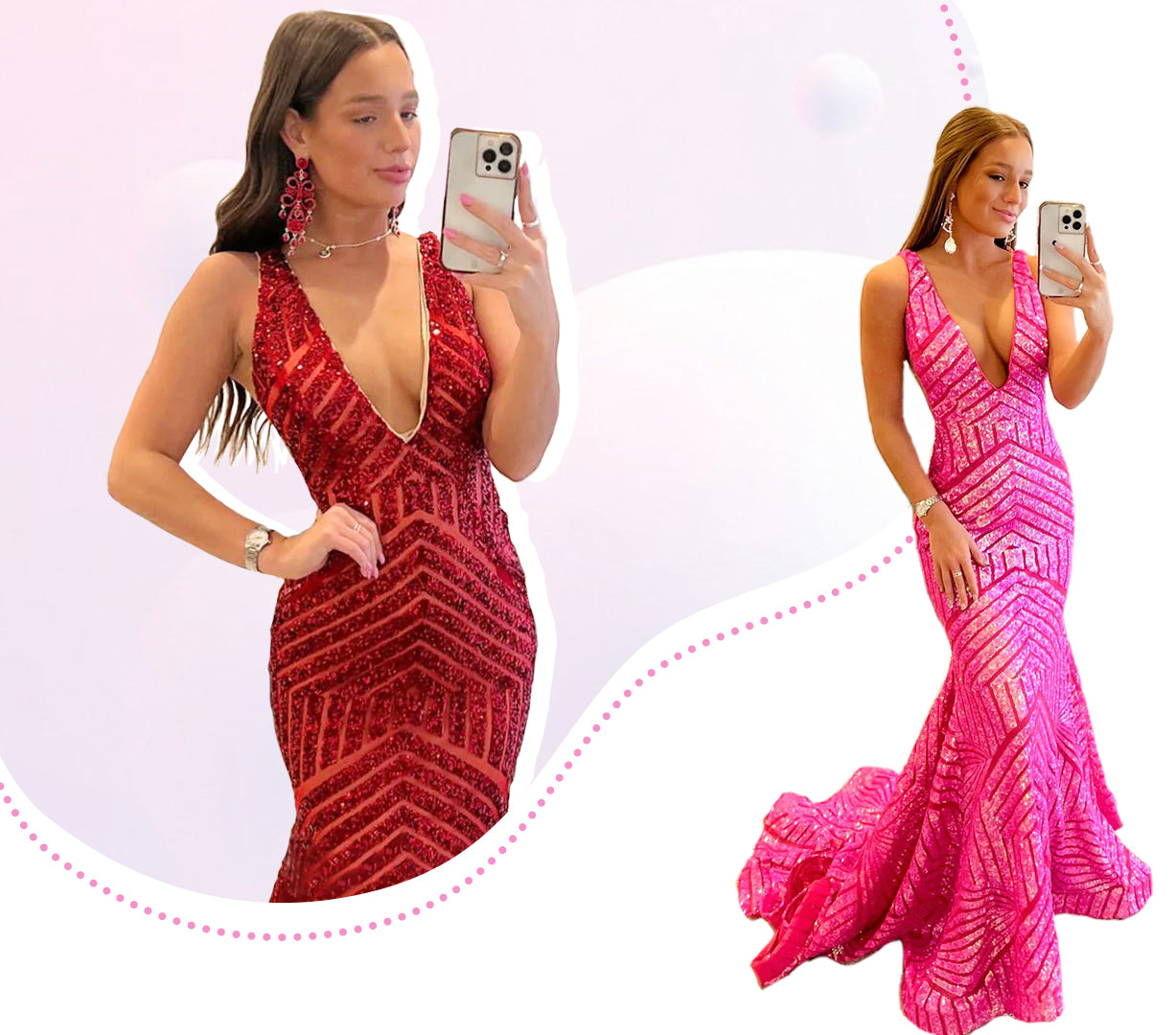 Ball Gowns
The term "ball gown" is often used to describe a dress that's formal and elegant in style, typically made from satin or taffeta. These dresses are often designed with a high waistline, fitted bodice, and long, flowing skirts. For added detail, some ball gowns are embellished with pearls, sequins, beads, or rhinestones. When it comes to prom attire, ball gowns are always in style because they're classic and timeless.
This stunning ball gown (04033012 Yellow) is one that will have you making lasting memories, and is made for the princess in you. It's full of elegance and sophistication, with a touch of old-fashioned romance. The lace deep-V bodice is adorned with a voluminous tulle skirt that flows gracefully with every move. The lace-up back gives this dress a snug fit like it's custom-made. There are two pockets on either side of the dress where you can store your phone and lipstick for easy access for an epic night out!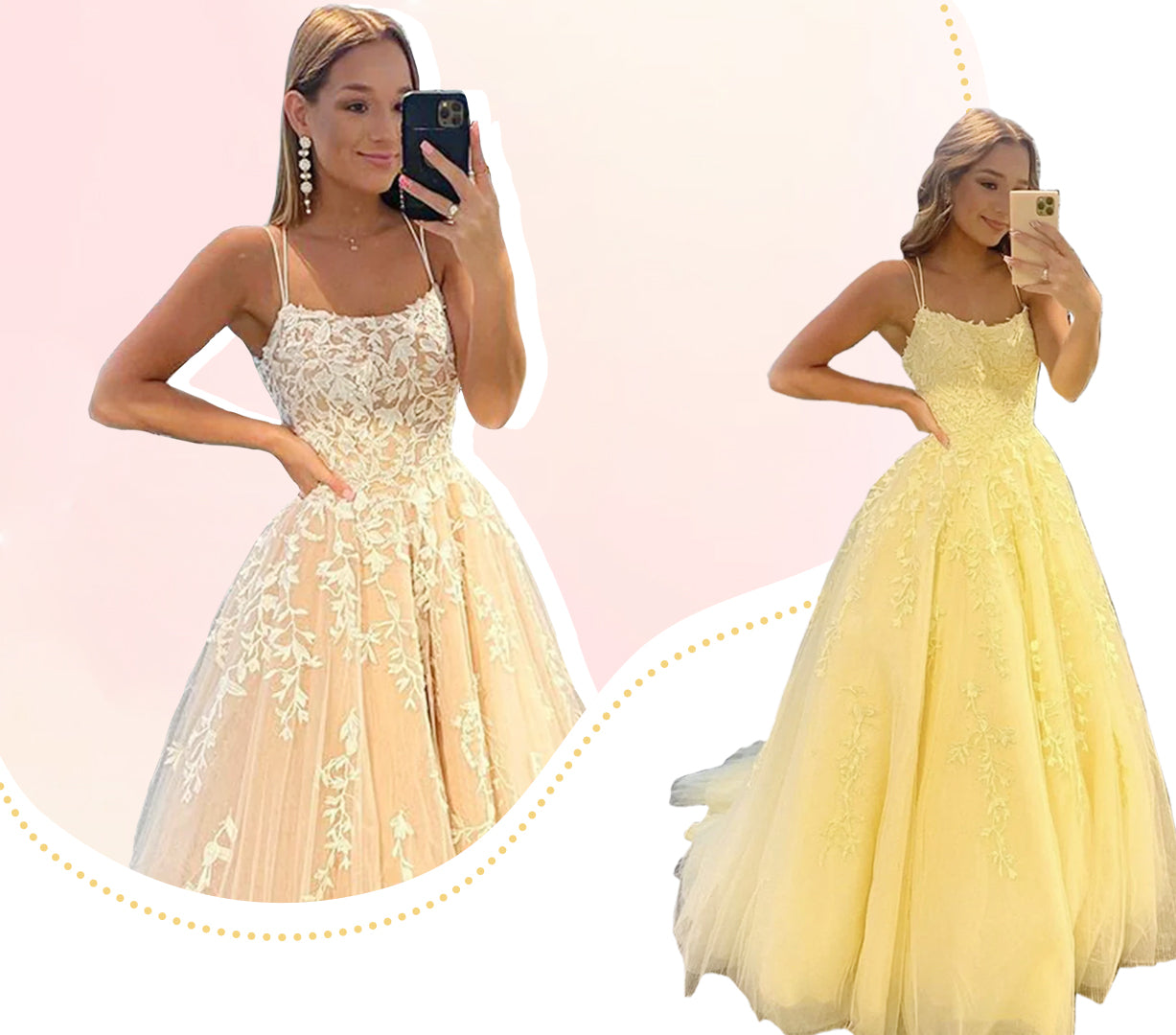 Velvet Sequin Gowns
Velvet sequin gowns are becoming increasingly popular for their unique, luxurious look and feel. They come in a wide range of colors and patterns that can be used to create a variety of looks. Velvet is often seen as a luxurious fabric, while sequins bring a touch of glam to the overall look. So, we think it's safe to say that velvet and sequins create a powerful combo. Velvet sequin dresses are also very comfortable to wear, which makes them a good choice for occasions with long hours of socializing or dancing—like prom!
For the girl who wants to shine in the spotlight, this stunning velvet sequin gown (HM04032706 Light Blue) is a must-have for your big night out. The plunging V-neckline bodice and lace-up back provide an excellent fit and hold securely in place for the perfect look, while the flirty, slit skirt elongates the figure and shows just a hint of leg. The sequin embellishment gives this gown an elegant touch, while the velvet fabric feels soft and luxurious. The fit is completely figure-flattering, and it's the perfect length for all-night dancing.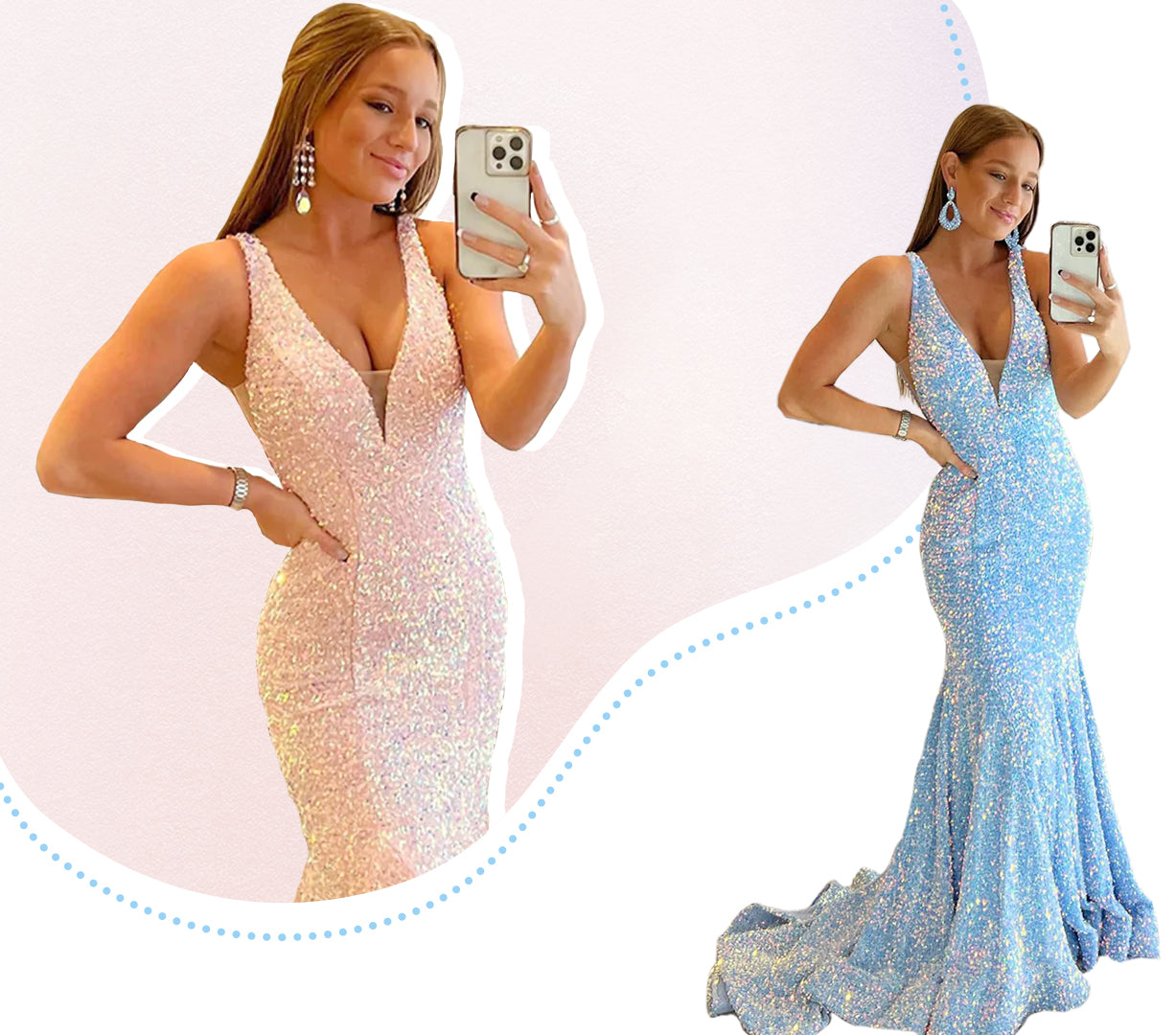 Lace Dresses
Lace prom dresses are becoming increasingly popular because they're a timeless style that can be worn for any special occasion. They are the perfect way to add a sexy, romantic feel to your prom night. Plus, lace is one of the most popular fabrics for prom dresses because it's so beautiful and delicate.
But lace isn't just a pretty pattern, it also has many practical benefits. It can be used to reduce the weight of the dress, make it more comfortable, and increase its breathability.
Breathtaking and elegant, this lace prom dress (04017731 Mint) is a perfect choice for your big night. With a lace bodice and sweeping, soft tulle skirt, this fit-and-flare gown creates an enchanting look that's sure to make you feel like you just stepped out of a fairytale. The plunging Spaghetti Straps, which stays put no matter how much you move or dance, is the perfect way to show off your feminine figure and for you to feel confident in every moment. The open back adds alluring detail, making you feel like the most beautiful girl in the room. This dress is perfect for your next formal affair and is designed to enhance your curves with its feminine silhouette.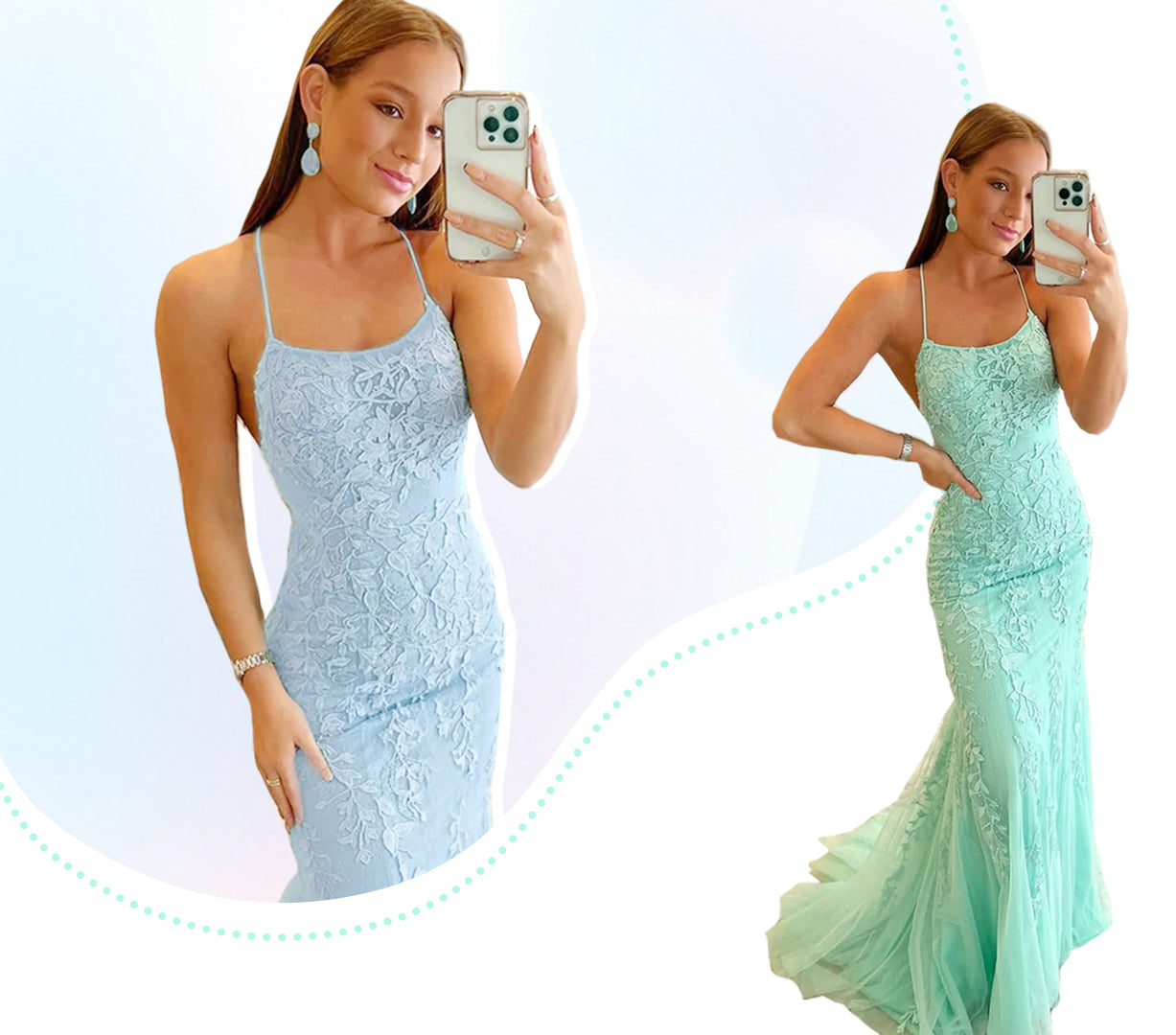 Shop HELLYMOON
Prom season is upon us and the latest trends are here. There are so many ways to complete a prom look. Some girls prefer to go with a classic style, while others like to experiment with different embellishments and fabrics.
So, it's clear that prom dresses are a staple in the fashion world, but some girls might struggle to find the perfect one. Are you one of them? Not to worry, HELLYMOON is here. We have a wide range of dresses to choose from, so you can find exactly what you're looking for. Shop our prom dress collection and find the perfect dress for your special occasion at one of our retailers today.